The Top Loading Multi Coin Selector HI-11UCSG supports 8 channels and can accept up to 8 kinds of coins at the same time. It is self-programming and features an inhibit line for the main machine/ game board. Programmed for Australian coins including 20c, $1 and $2 coins.

$80.00

AUD exc. GST
This 15Amp switching power supply (+12V 5A, +5V 15A -5V 1A) Mindong is a great replacement power supply for most of the Jamma game PCBs, arcade cabinets or DIY projects. Features with 110 to 240volt switch, EMI filter and UL1950, EN60950, CB, CE Safety standard.

Don't Pay
$29.96 AUD exc. GST

Save 12%
$26.32

AUD exc. GST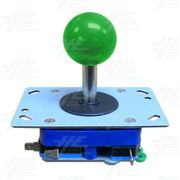 A zippy styled arcade joystick suitable for arcade machines. This joystick can be operated as a 2-way, 4-way and 8-way joystick (changed easily by the plate on the bottom) and comes with 4 microswitches. This joystick is easy to install and a great alternative for yoru old joysticks. Suitable for both metal and wooden control panels.

Don't Pay
$11.78 AUD exc. GST

Save 23%
$9.05

AUD exc. GST