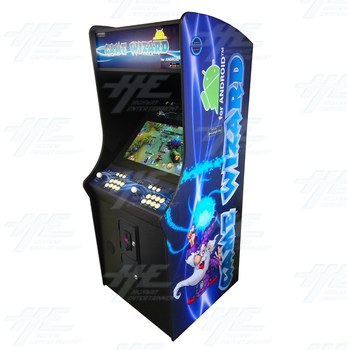 Don't Pay
$3268.19 AUD exc. GST

Save 58%
$1359.09

AUD exc. GST
Game Wizard for Android by Arcooda is a two-player, upright arcade machine that presents users with endless entertainment options.

Here is what the machine can support (just plug in);


combo boards
Raspberry Pi
XBOX 360
XBOX One
Playstation 3
Playstation 4
PC

And, it comes already with Android motherboard, just connect your Google account and start downloading games. Play games such as Metal Slug, Crazy Taxi, various Pacman games, Candy Crush, and much more.

You can play via touch screen, the Sanwa Joystick/buttons, or, plug in your console hand controller.

The machine offers 26inch HD touch screen monitor, Japanese Sanwa joystick and buttons, plywood construction, 2.1 sound system + subwoofer with great sound and more.

Unfortunately this machine received timber damage in transport. We have repaired as best as possible and shows some cosmetic damage. All components are 100% and brand new. Machine comes with 12 months warranty. For more information on what Game Wizard for Android can handle, please view;

https://www.youtube.com/watch?v=nSdMLjIbQI0 (Android demonstration)

https://www.youtube.com/watch?v=wHtdloNfqSs (Tekken 7 demonstration)

1 unit only, less than 1/2 price.