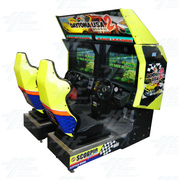 Daytona 2 USA twin driving arcade machine is a video racing game released by Sega in 1998 as a follow-up to the extremely successful Daytona USA.

Don't Pay
$5450.00 AUD exc. GST

Save 17%
$4500.00

AUD exc. GST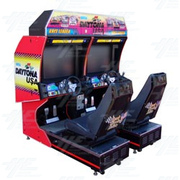 Daytona USA Twin Driving Arcade Machine is a high-speed stock car racing game made in Japan that allows you to choose from four dynamic viewpoints on the fly to get a true racing perspective. Realistic stock car control allows drifting, controlled braking, four-wheel drifts, and skillful acceleration to keep the lead.

Don't Pay
$4045.45 AUD exc. GST

Save 22%
$3136.36

AUD exc. GST
Time Crisis SD Arcade Machine is a gun shooting game with a difference. Instead of just the enemies being able to hide, the player can also hide thanks to a pedal located at the base of the machine.

Don't Pay
$722.72 AUD exc. GST

Save 37%
$450.00

AUD exc. GST