This Daytona USA Sticker Kit includes the left and right side panel stickers, which have been printed in oversize for trimming purposes. Daytona USA is a racing video game developed by Sega AM2 and released by Sega, with a limited release in 1993 followed by a full release in 1994. Considered one of the highest grossing arcade games of all time, Daytona USA was Sega's first title to debut on the Sega Model 2 arcade board, and, at the time of its 1994 release, was considered the most visually detailed 3D arcade racing game. Despite a lower polygon-count than its predecessor, Virtua Racing, Daytona's 3D-world was fully texture-mapped, giving it a more realistic appearance than the former. Daytona was one of the first video games to feature filtered, texture-mapped polygons, giving it the most detailed graphics yet seen in a video game up until that time.

Don't Pay
$172.72 AUD exc. GST

Save 15%
$145.45

AUD exc. GST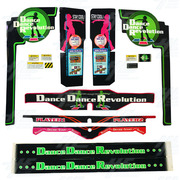 This Dance Dance Revolution cabinet sticker kit is designed for the DDR arcade machine. This sticker kit is not version specific, and could be used on a variety of DDR machines, such as the original or DDR 8th Mix, etc. This cabinet sticker kit would be useful for customers needing to replace stickers on their current cabinet, or, for customers reconditioning or upgrading a DDR cabinet. DDR is a music video game series produced by Konami. Introduced in Japan in 1998 as part of the Bemani series, and released in North America and Europe in 1999, Dance Dance Revolution is the pioneering series of the rhythm and dance genre in video games. Players stand on a "dance platform" or stage and hit colored arrows laid out in a cross with their feet to musical and visual cues. Players are judged by how well they time their dance to the patterns presented to them and are allowed to choose more music to play to if they receive a passing score.

Don't Pay
$122.73 AUD exc. GST

Save 26%
$90.00

AUD exc. GST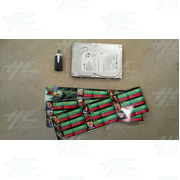 King of Fighters going fully 3D in the arcade port of the popular console game series. KOF Maximum Impact Regulation A is mixture of new graphics & characters while maintain the classic 3 on 3 team battle style of play.

Don't Pay
$1343.78 AUD exc. GST

Save 91%
$114.80

AUD exc. GST