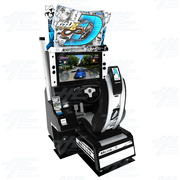 In this 2014 addition to the long running series, the story mode 'Legend of the Street' has been renewed with new features, like the a new battle rival race gameplay. The game also features two new course, three new rivals and three new car models - Celica GT-Four, Skyline 25GT Turbo and a Lnacer Evolution V.


$14994.56

USD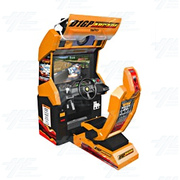 The D1GP single seat arcade machine is a drift racing game which reproduces the drift championship D1 grand prix series. It is unlike many other racers, as the focus is not on the ranking and speed of the player, but rather how many drift points a player can acquire.

This is a brand new machine, 8 units available.

$3495.00

USD
DDR X3 utilizes a level unlocking system to unlock some of the game's unlockable content. Players need to fulfill certain requirements to fill up the "Enjoy Level" bar and when it is full, the player levels up. This requires e-Amusement. Most of Enjoy Level unlocks are songs taken from North American DDR 2010 and DDR X2, in addition to new songs.

Don't Pay
$5595.00 USD

Save 10%
$4995.00

USD