Our customer is closing his warehouse in Hong Kong and has over 300 machines to clear. They have given us only 24 hours to finalise any purchases as next Monday they will begin using the premises for other business. Below are the clearances;

CABINETS

42pcs x Blast City Cabinet $220usd
70pcs x New Astro City Cabinet $165usd
18pcs x Net City Cabinet $175usd
10pcs x Versus City Cabinet $240usd
14pcs x China LCD Cabinet $185usd
2pcs x Taito Vewlix Cabinet $395usd

MUSIC

1pcs x Dance Dance Revolution A $1,995usd
3pcs x Drum Mania V $595usd
1pcs x Drum Mania V6 $595usd
3pcs x Drum Mania V7 $595usd
1pcs x Drum Mania V8 $595usd
1pcs x Great Bishi Bashi $595usd
1pcs x Guitar Freaks V3 $595usd
3pcs x Guitar Freaks V6 $595usd
3pcs x Guitar Freaks V6 $595usd
3pcs x Guitar Freaks V7 $595usd
1pcs x Guitar Freaks V8 $595usd
2pcs x Jubeat $595usd
3pcs x Jubeat Clan $595usd
1pcs x Pop Music Fever $795usd
1pcs x Project Diva - Future Tone $795usd
1pcs x Taiko 10 - Japan Version $895usd
1pcs x Taiko 11 - Asia Version $895usd
1pcs x The Bish Bashi LCD $1,495usd

SHOOTING

1pcs x House of the Dead 4 DX $1,295usd
1pcs x Time Crisis 4 DX $1,295usd

DRIVING

2pcs x Initial D 3 $395usd
2pcs x Initial D 4 $495usd
2pcs x Initial D 7 $495usd
2pcs x Initial D 8 $595usd
14pcs x Maximum Tune 3DX+ $595usd
4pcs x Maximum Tune 5 (missing steering wheels) $895usd

OTHER

1pcs x Turn it Around Taito $595usd
3pcs x UFO Catcher $395usd
3pcs x Basketball Single Player $495usd
1pcs x Doll Shooting $595usd
1pcs x Dream Catcher $595usd
90+ gambling cabinets

COIN PUSHER

1pcs x Fantasy Area - Pusher $1,395usd
1pcs x Monopoly Coin Pusher $1,395usd
1pcs x Namco Taiko 50 - Pusher $1,395usd
1pcs x Sega Treasure Shot $1,395usd
1pcs x Spin Fever $1,695usd


NOTES:

machines are in various condition from missing parts to fully working
we have general photos of machines, but cannot get more images
we cannot turn on and test machines, this sale is AS-IS, no warranty offered
we need to pickup and move the machines out of the warehouse this Monday (no exceptions)
payment must be made today for all orders

SPECIAL NOTES:
Machines are offered on wholesale basis. Please understand this fact, you are buying as-is where the components of the machines are worth much more than the sell price. Some machines need online subscriptions to Japan, others will need repair, etc..If you are not sure, please do not purchase. If you need more photos of machines or if you need personal inspection yourself please do not purchase. We need to clear 300 machines today, so please only reach out to us if you are genuinely interested to order. Because of lack of time, we will not be in a position to give you accurate quotations for freight, but can offer guides.

On Monday this offer will disappear. Machines are sold on first payment, first served basis.







News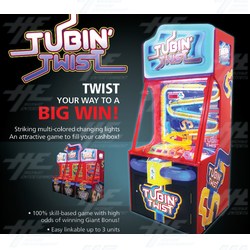 Big savings are available on a range of Ticket Redemption Machines from China. Many factories have excess stock and can offer big discounts, especially on container quantity orders. If you are in the market for basketball, token, bowling and other ticket redemption machines, now is the time to order.

Due to the Corona Virus situation, factories have been unable to attend trade events, promote their new equipment or talk face to face with their clients to sell excess stock. Its a great chance to order games. We have been asked not to print prices online, but if you are ready to order please contact us and we will send you all information included the greatly discounted pricing. Games such as Tubin Twist Ticket Redemption Machines are on HOT SALE.......

---
More News Stories »
With all purchases of Thunderbird Pinball Machine we are offering free freight to any freight terminal around the world. Thunderbirds Pinball comes with shaker motor, limited edition tokens, and 12 months warranty.

Thunderbirds Pinball immerses players in all the action of the International Rescue Team, featuring authentic character voices and
original music.The Playfield includes Tracy Island with its retracting swimming pool and palm trees; just like in the classic 1960s thunderbirds tv series. Creating a retro look and feel combined with some modern twists. With the ultimate aim of defeating International Rescues nemisis The Hood, the multi-game play of this machine makes it suitable for both novice and experienced players alike.

Free freight includes all packing/freight costs up to your country's nearest freight terminal to your home. Local taxes, customs clearance and local door delivery are not included. For more information please contact our team.

---
More News Stories »
44-48 Maitland Rd, Ground Floor (Entry via Myola St),
Mayfield East 2304, NSW, Australia
Ph:
+612 4968 9313
Fax:
+612 4968 9314
Email:
sales@highway.net.au, A.B.N 18 077 885 440