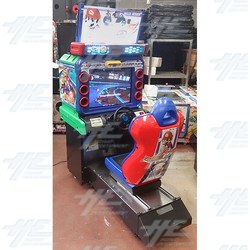 We are looking to clear all our stock and currently have super hot pricing on Mario Kart Arcade GP 2 Arcade Machines (Japan Version). These machines are now well below cost price at $2995incl GST per seat! With only 2 units left, get in quick before you miss out on this incredible offer!

For most of us, we remember Mario Kart on the Nintendo 64 and with this arcade machine, you can re-live all your favourite moments and race in a fully-fledged "kart" of your own! This arcade version has similar game play and characters to the original Nintendo game, for instance, blue-shells are still annoying as ever! However, Mario Kart Arcade GP 2 Arcade Machine features 32 variations of courses across eight different worlds, familiar characters such as Mario, Luigi and Yoshi are able to be played in the game, however this version welcomes new characters from Namco Bandai, including Pac-Man and popular Tamagotchi character Mamechilis.Different classes are also available, which help players of all skill levels enjoy the game.

Furthermore, Mario Kart GP 2 Arcade features live play by play commentary and a camera above the monitor, known as a 'Nam Cam', which projects the player's face onto the screen as their chosen character. For example, players who select Mario will appear wearing the iconic red hat and moustache. Mario Kart GP 2 is available with an optional re-writable card-playing system, which allows players to collect coins and save them on their card each time they play. Coins can then be traded in by the player to customize their cart, and can also be redeemed for hidden items, carts and more.

Mario Kart GP 2 Arcade Machine is suitable for a wide range of locations such as arcade centers, family entertainment centers, bowling alleys, kids clubs and even the comfort of your own home. The easily recognizable characters and game title will draw players of all ages from across the floor, and the easy competitive nature of the game will encourage repeat play.

For more information or to make an inquiry please .