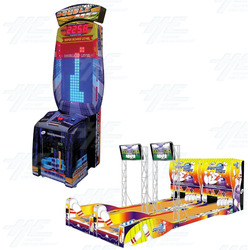 One of our customers is looking to clear excess stock of Stacker Double Up and Super Strike Bowling machines. These machines are brand new and are being offered at very special pricing. Stock is limited, so please don't delay in contacting our sales team to discuss pricing.

is a ticket redemption machine with similar game play to other Stacker machines. Players aim to stack horizontally moving blocks 15 levels high in order to win. Stacker Double Up has many new features, such as Double Up and Super Bonus levels. When a player reaches the double up level they will earn double the tickets. If they continue playing to reach the Super Bonus level they will receive maximum tickets. Players can decide to walk away with their earned tickets at any point during the game. The machine also features Operators Selectable Programming that allows operators to control the ticket payout at each level.

is a self contained bowling alley, complete with a 30" LCD scoring monitor, and delivers all of the fun and fast paced excitement of a real bowling alley. It comes standard with 11 ft lanes, however operators can create a more challenging playing environment by adding a four ft extension to the lane. The game features a motorized pin lifter, and is able to accommodate up to 4 players per lane.