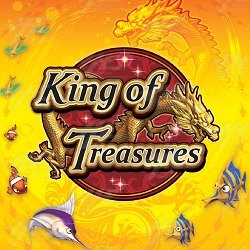 The second English version release from the Ocean King series, King of Treasures, will be coming out and made available soon. King of Treasures is an arcade game in which four, six, or, eight players compete in this ocean themed, video redemption game.

The game uses the same controls, fish and mini game features as the original Ocean King, but has also added extras for players to enjoy. In King of Treasures a new gun has been added to the player's arsenal – the Machine Gun. Players access the Machine Gun by clicking the joystick upwards twice.

All the original characters are in this game as well, with an additional 3 characters – Laser Crab, Roulette Crab and Golden Dragon - which makes a total of 20 character fish to capture!

The feature mini games includes:


Explosive Crab
Laser Crab
Roulette Crab
Lightening Chain
Vortex Fish

The concept is quite simple - shoot at and catch fish - however the addition of multiple characters and featured mini games layers the gameplay, making it fun and challenging for players of all ages. King of Treasures is available just as a game board kit, but is also available in a 4 player cabinet, 6 player cabinet or 8 player cabinet, with a range of different inputs and outputs.

If you would like more information you can check out the machine .