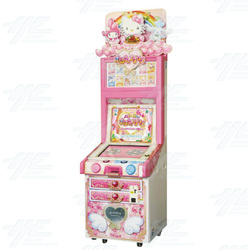 card machines are currently on sale. There are nine refurbished machines available ex Japan. For pricing and order information please contact our sales staff.

Hello Kitty and the Apron of Magic is a cooking themed card collecting game manufactured by EXAMU and licensed by Sanrio.

The goal of the game is to create tasty meals using ingredient cards dispensed by the machine. Players decide on ingredients they think will taste good in a particular dish and then select these ingredients from the cards they have collected.

There are three different types of cards to collect. including red character cards, yellow ingredient cards and blue magic cards.

The machine features dual LED monitors. The top screen is used to display the game play and results, while the lower screen is equipped with a touch panel and is used to control the game.

The game is targeted to girls aged 3-8 years old.